Welcome to East Hampton Rotary
New York 11937
To contact us, click on Club email address at top of page
For our Facebook Page - Click HERE
PLEASE NOTE: The Club meets at
The Harbor Grill, 367 Three Mile Harbor Road, unless stated below
Click HERE for Harbor Grill location details
Club Meets Mondays - Start time 5:30 for 6pm - unless otherwise stated below
If you are interested in joining Rotary, email us for an invite to come to a meeting. Rotary is great
fun, we have interesting speakers, good fellowship and are a valuable resource
for our community. Try a meeting or two!
Upcoming Program
Monday May 16
Program: to be announced
Monday, May 23
Program: RYLA and Interact officers and Early Act advisors to attend meeting (Modified meal plan)
Monday, May 30
NO MEETING. MEMORIAL DAY
Upcoming Events:

Saturday early August 2016 = The 5k and 10k 'Race for Rotary' will be held at Fresh Pond
to raise funds for charities. A beautiful location starting and ending at the beach, thru wooded lanes.
email for an entry form

Annual Golf Tournament: at Maidstone Club, East Hampton; May 2017 - BOOK NOW!.

Numbers strictly limited

. A unique opportunity to play this prestigious course.

See below for sample application details - email for more information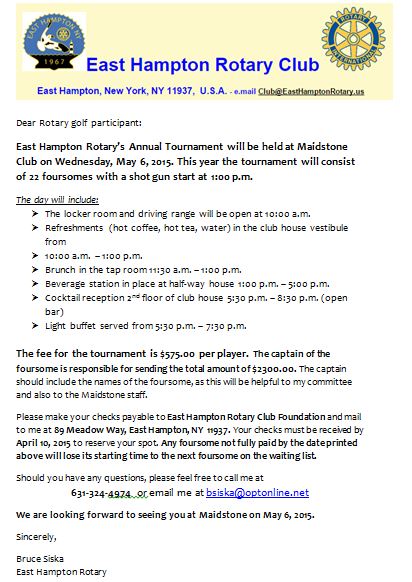 See below for Application Details. Email for more information
Run for Rotary - 5k and 10k Races at the beautiful Fresh Pond course.

Usually the first Saturday in August – email for details
The East Hampton Rotary Club meets
each Monday evening at 5:30 for a 6:00 pm dinner meeting, except for Public Holidays and special events.
All Rotary Members and their guests are welcome. Prospective members please contact the Club
by email or call 631-238-5257 for an invitation.
Club Officials 2015-16: President = Heather Dunn Kostura: Vice President = Joe Hren:
Treasurer = W James Matthers: Assistant Treasurer = Shawn Miller
Club Secretary = Karen Collins; Executive Secretary = Mary Siska: Foundation Chair = Bruce Siska